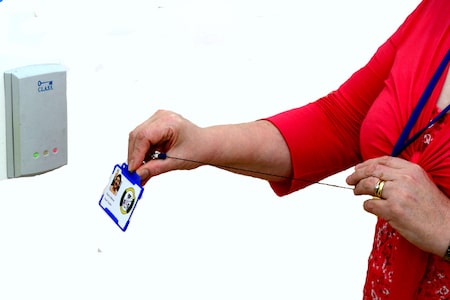 Most employers require their employees to wear their ID cards at work for easy identification and security purposes. The cards often double up as access cards to allow them entry into certain doors at the workplace.
As experts in ID cards and accessories, we recommend using badge reels or retractable lanyards with both ID cards and access cards. These very handy items let you pull out and swipe your card to gain access into a building without the need to remove it from the badge holder. They also offer high visibility , making them especially good for photo ID cards. Badge reels help keep your vital identification or access cards out of the way while at the same time making them easily reachable when you need them.  
A badge reel is specially designed to be worn on the belt or waistband. A retractable lanyard (or "lanyo" as they're sometimes called) is a lanyard with an integrated badge reel  – a combo worn around your neck. Also, the badge reel-lanyard combination offers you great visibility and is ideal for both identification and access cards.
Customised badge reels and retractable lanyards  with company branding are ideal for organizations that wish to enhance their security levels – they add an extra layer of security to help spot unauthorized persons
accessing  premises. Both the lanyard and the badge reel can be customised to include your company's logo, trademark, and brand colours. Besides enhancing security, customised badge reels can also increase brand awareness.  Additionally, we offer badge reels in different colours, designs, and styles for an even more personalised feel.
Tip:  You will usually need ID card holders to allow you to easily connect your badge reel or lanyard. We sell a large range to suit your needs.
Call us today to find out more about badge reels and other card accessories or for assistance designing a customised badge reel or lanyo. We are friendly and also happy to share our expertise.